PALMVIEW, Texas-Every minute, almost 20 people in the United States are physically abused by an intimate partner.  The National Coalition Against Domestic Violence estimates that's about 10 million people per year.  That's why the City of Palmview has joined cities throughout the nation in observing October as National Violence Awareness Month and urges the community to participate in programs and activities sponsored by the Palmview Police Department that work toward ending domestic violence.
Palmview PD has dedicated resources available for victims of domestic violence in collaboration with the Hidalgo County Criminal District Attorney's Office, Hidalgo County Family Violence Task Force, and other local groups and agencies.
To show the city's commitment to end domestic violence, Mayor Ricardo Villarreal and the Palmview City Council presented the department with a proclamation during the City Council Meeting of October 18, 2022, thanking them for their continuous efforts to keep the community safe.
###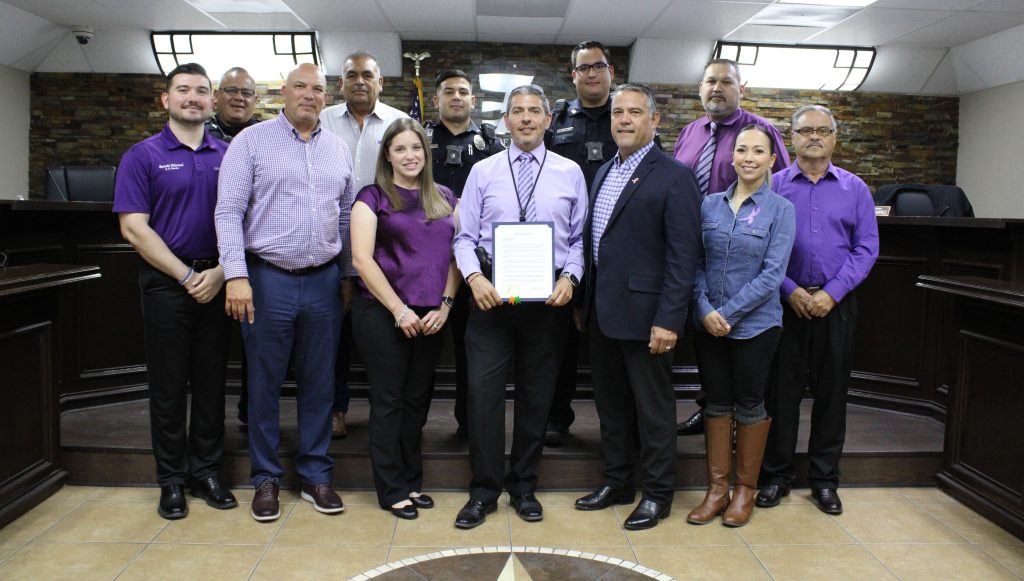 (Pictured 1st Row L-R: Gerardo Villarreal, Council Member Jose Luis Perez, Debbie Hernandez, Interim Police Chief, Arnold Sepulveda, Mayor Rick Villarreal, Mayor Pro-Tem Alexandra Flores, Council Member Javier Ramirez, 2nd Row L-R Officer Eddie De La Rosa, Council Member Benito Hernandez, Officer Ruben Pena, Officer Matthew Espinoza, and City Manager Michael Leo.