PALMVIEW, TX –The City of Palmview announces that work has begun on a drainage improvement project in the Green Gate Grove Subdivision. This project will provide drainage relief to the area from Starling Drive east to Tordillo Road.
The project includes installing 452 linear feet of 18-inch reinforced concrete pipes with fittings, four grate inlets, two manholes, and removing and repaving the street.
The drainage improvements will improve the stormwater flow out of the subdivision by sending it north to the drainage ditch on East Tordillo Road.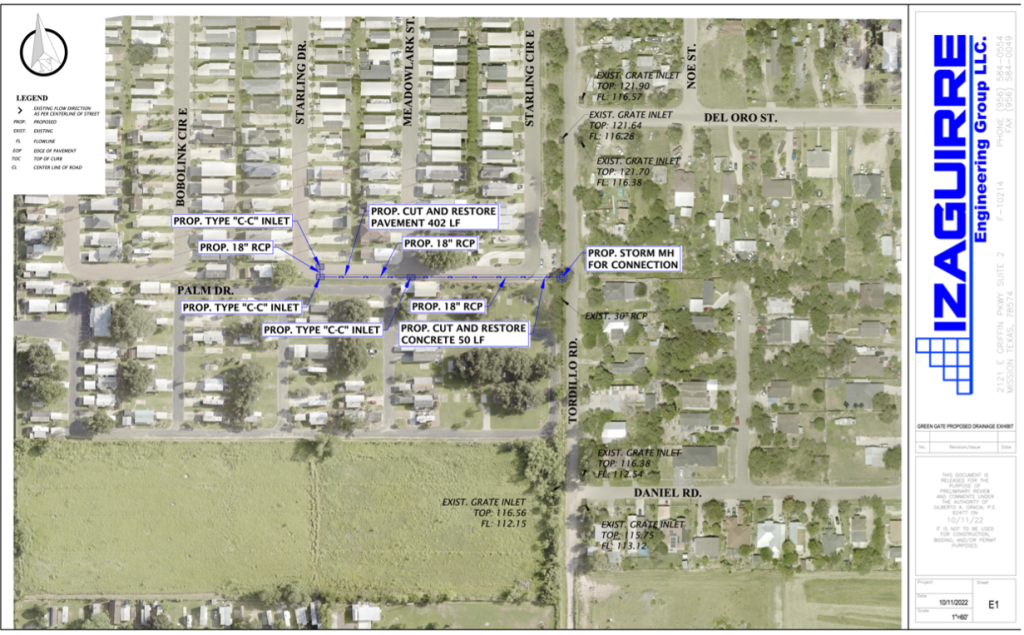 This project was approved unanimously by the Palmview City Council and is being paid through Certificate of Obligation Funds acquired by the City of Palmview for various street improvement projects.  The Estimated Project Cost is just over $170,000.
The work is being done by Texas Cordia and it was designed by Izaguirre Engineering Group with the focus of providing drainage relief.  The improvements will also help reduce roadway potholes caused by the deteriorating effect of prolonged water on the roadways, soil erosion and sedimentation, contamination by pollutants such as pesticides, chemicals, trash, debris, and sewage from flooded pipelines, and weather-related infectious diseases
The project should be complete within 60-90 days.
###