PALMVIEW, Texas-May is Building Safety Month – a time to raise awareness about the importance of building codes that ensure safety in the spaces where we live, work, and learn.
It is an international campaign that focuses on everything from fire safety tips to home maintenance.   That's why the Palmview City Council recently recognized the city Building Official Joseph Izaguirre along with the Planning & Zoning Director Rudy Flores III, and Cesar Gutierrez, the Public Works Supervisor.
They oversee the building codes and ordinances of the city pertaining to construction and occupancy.
And while they help promote and maintain overall safety, there are things that all of us can do to stay safe.  Things such as putting a smoke alarm on every level of your home and outside of each sleeping area, never overloading electrical cords or power strips, never using appliances with damaged cords, and watching for leaky pipes, condensation, and wet spots, to prevent mold.
All communities need building codes to protect citizens from disasters like fires, weather-related events such as floods, and structural collapse.
###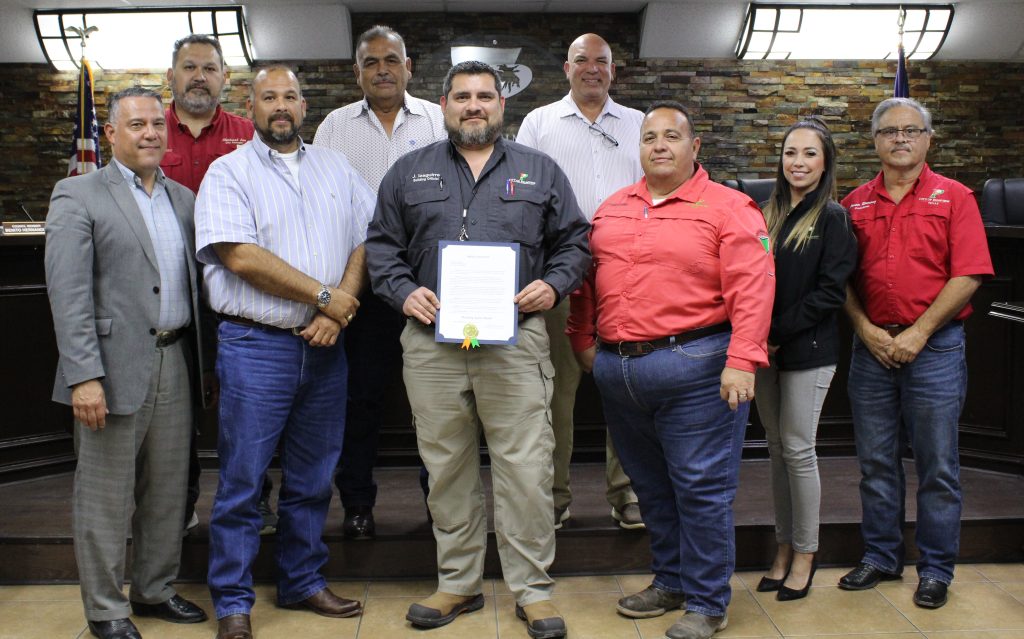 Pictured L-R 1st row: Mayor Rick Villarreal, Rudy Flores III, Joseph Izaguirre, Cesar Gutierrez, Mayor Pro Tem Alexandra Flores, & Javier Ramirez. L-R 2nd row: City Manager Michael Leo, Councilmember Benito Hernandez, & Councilmember Jose Luis Perez)