PALMVIEW, Texas-The Palmview City Council this week recognized the men and women who make up the Palmview Police Department. A proclamation was presented to Chief Jose Trevino as part of National Police Week celebrated across the country in May.
Mayor Ricardo Villarreal says the Palmview Police Department has become a modern and scientific law enforcement agency that unceasingly provides a vital public service.  The department that has an authorized strength of 24 officers, seven communication officers, three civilian employees, and an operating budget of $2.4 million.
The Mayor and Councilmembers each thanked the officers for their dedicated service to the community. They reminded the community about the important role officers play in safeguarding the rights and freedoms of our citizens.
###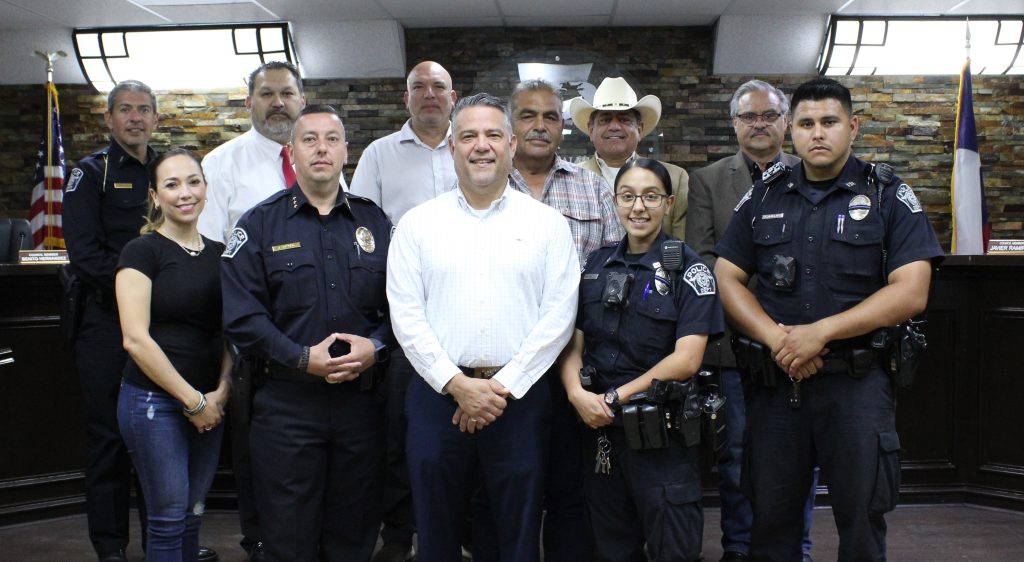 (Pictured L-R 1st Row: Mayor Pro Tem Alexandra Flores, Chief Jose Trevino, Mayor Ricardo Villarreal, Officers Alejandra Garcia, & Arturo Zendejas.  2nd Row L-R: Lt. Arnold Sepulveda, City Manager Michael Leo, Council Member Jose Luis Perez, Council Member Benito Hernandez, Council Member Joel Garcia, & Council Member Javier Ramirez)