PALMVIEW, Texas- The City of Palmview has been awarded $606,985.55 by the Texas General Land Office (GLO). Palmview is one of 15 entities in Hidalgo, Cameron, and Willacy Counties that will share more than $18.5 million combined for infrastructure projects in the Lower Rio Grande Valley.  The announcement was made on March 21 by General Land Commissioner Dawn Buckingham in Weslaco. Councilmembers Javier Ramirez, Benito Hernandez, Joel Garcia, Jose Luis Perez, and City Manager Michael Leo were in attendance to accept the grant award.
The City will use the funds to alleviate drainage issues in the Ramirez Subdivision located on the west side of Moorefield Road.  This project will benefit more than 18 acres of property from 19th to 22nd Streets, which was significantly impacted during the 2019 South Texas Floods.
The drainage improvements include adding storm inlets, an underground drainpipe system that will convey water to a new detention pond, and a pump station.
The other award recipients include the cities of Mission, Mercedes, Combes, La Feria, Laguna Vista, Port Isabel, Primera, Rio Hondo, Santa Rosa, La Villa, Raymondville, as well as Hidalgo County, Cameron County, and Willacy County.
This is the second GLO grant awarded to the City since February.  The first is for $540,475.61 for the Riverside Estates Subdivision which was submerged by water during the flood event of 2018.
A timeline for both projects will be announced soon.
###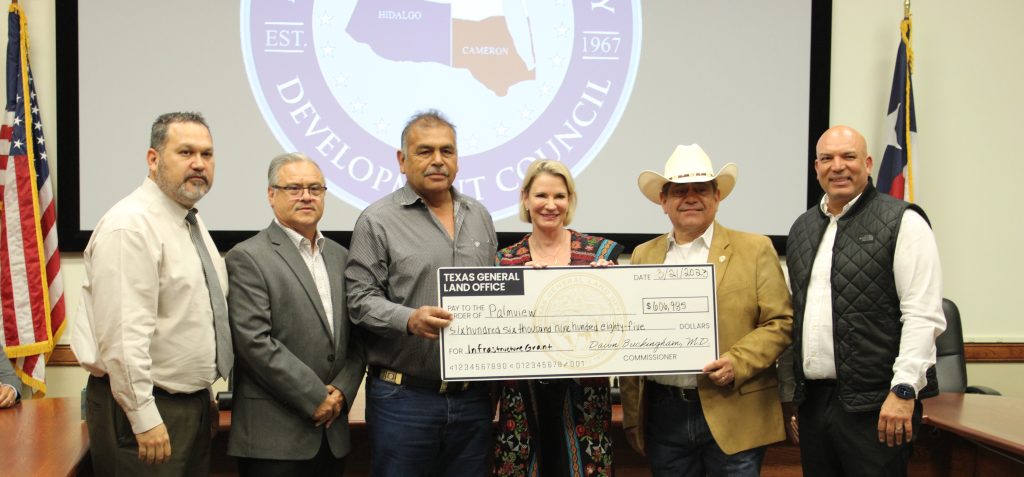 (Pictured L-R:  Michael Leo, Javier Ramirez, Benito Hernandez, Dawn Buckingham, Joel Garcia,& Jose Luis Perez)